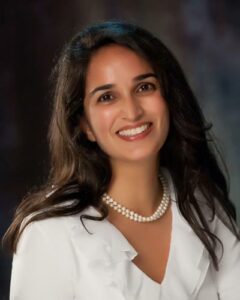 We all tend to cling to what we believe, without comfortably accepting different viewpoints…and believe it or not, that could be okay! Haleh Resnick's background and experiences taught her that one doesn't need to sacrifice their principles to understand another's perspective. It's a key angle in her parenting books and "Think Again" series of children's books, and she shares that in her speaking engagements too.
Background
Haleh was born in the United States to Iranian parents. Her family moved back to Iran before the Revolution…after which, as a Jewish family, they were forced to flee back to the U.S. when she was just in third grade. The experience of growing up as very much an outsider in what she considers an incredible country helped to give her a remarkably unique perspective that applies to both children and adults when it comes to relationships.
And so, Haleh like many of us is an insider and outsider. She goes beyond every day politics and focuses on what we all face in our daily interactions, inspiring listeners to find strength in their own diversity.
Works
Haleh Resnick is the author of the Think Again series, Little Patient Big Doctor and Navigating OIT, a much needed practical guide to oral immunotherapy. Whether writing or speaking about communication or perception analysis, Haleh defies convention and inspires fresh thinking. A practicing attorney, Haleh is also a powerful educator and counsels children.
After some years of working as a finance attorney in prestigious law firms, Haleh temporarily retired from law and focused on writing and speaking. In that time, she spent years teaching and  counseling parents and children of all ages and this combined with her legal background are the root of her books and the reason she speaks to both professionals and young adults. Her speaking focuses on diversity and acceptance in thought and action in order for us to be our best selves.
Haleh's experiences and outlook give her the knowledge and familiarity to speak to others on a variety of topics…offering perspectives that aren't often considered by many, and encouraging people to see things differently and for the better.
Haleh is married for over 25 years, and lives in New Jersey with her husband and family. Her work garners attention from national media, as she inspires those around her to Think Again in all that we do.